What is the Average size of a Wedding Dress ? Hitched W.I.F.E have done some research into this point and makes interested reading.
"We asked brides what their wedding dress size they were or will be when they walk down the aisle."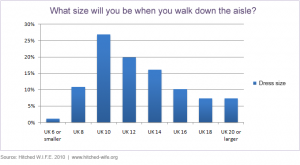 Here at Wedding Days we estimate the average size Wedding Dress would be more like an size 12-14 but we stock all size Wedding Dresses from size 8 to a size 24 Wedding Dress.
For more excellent statistics view http://hitched-wife.org/wedding-facts-economics/